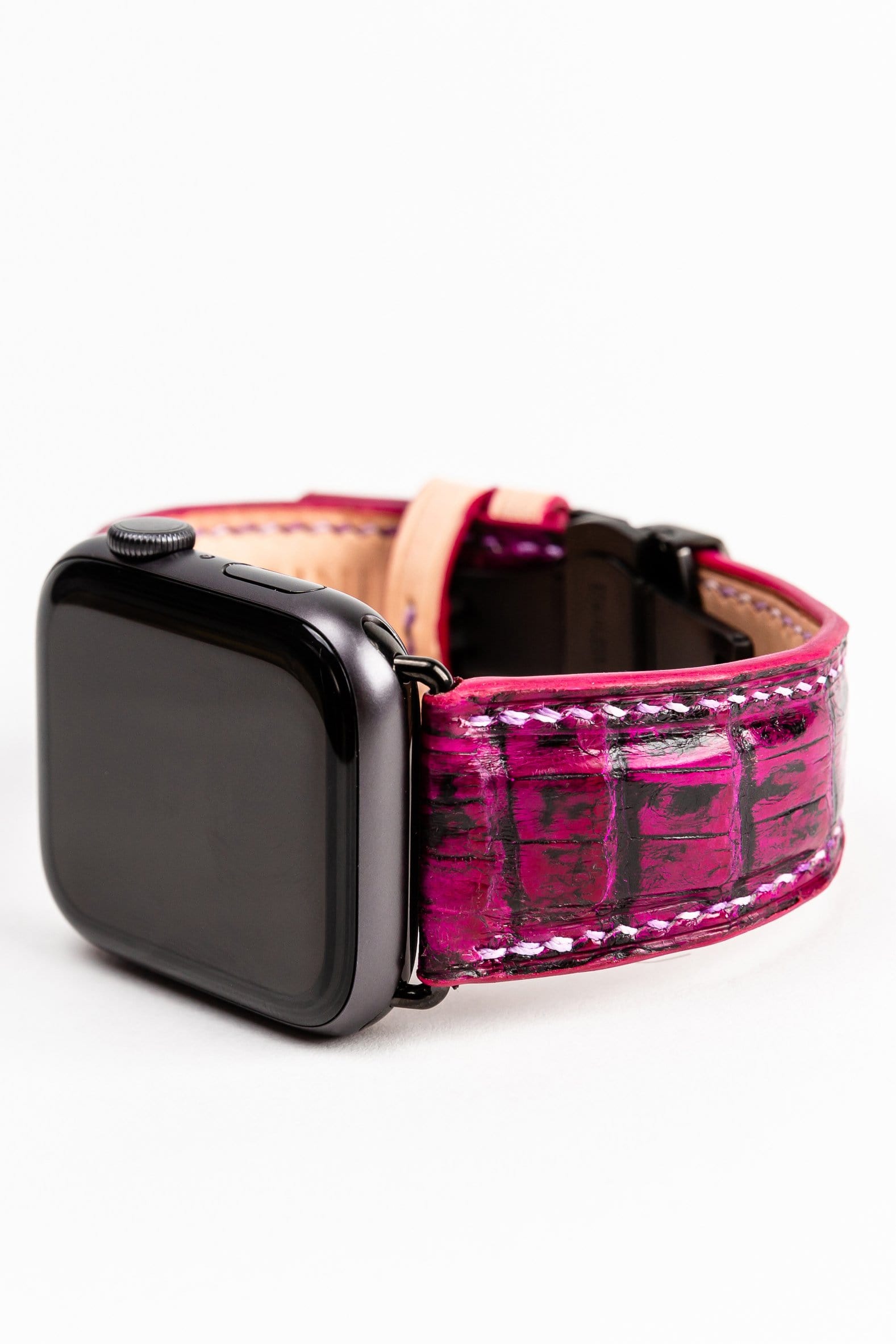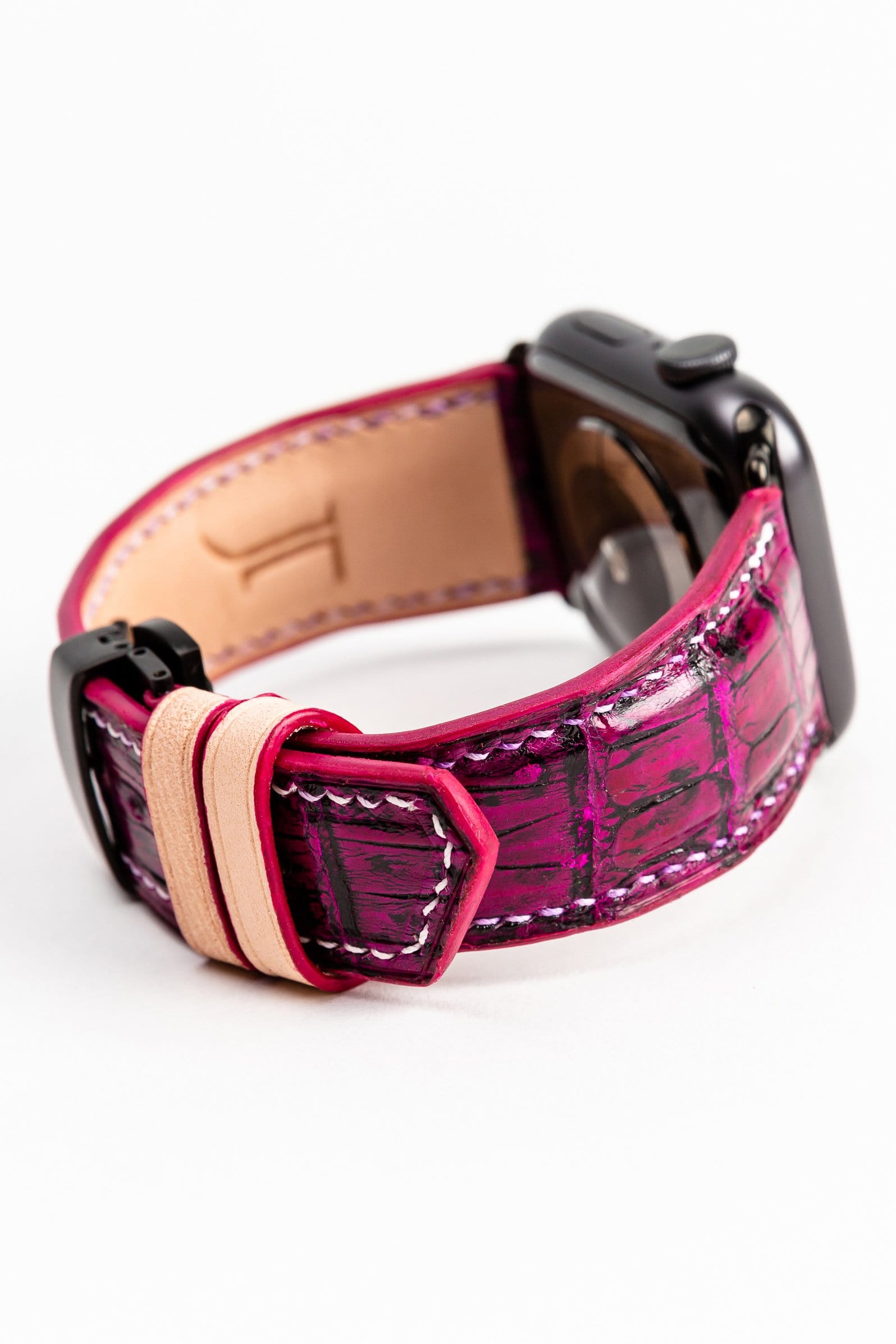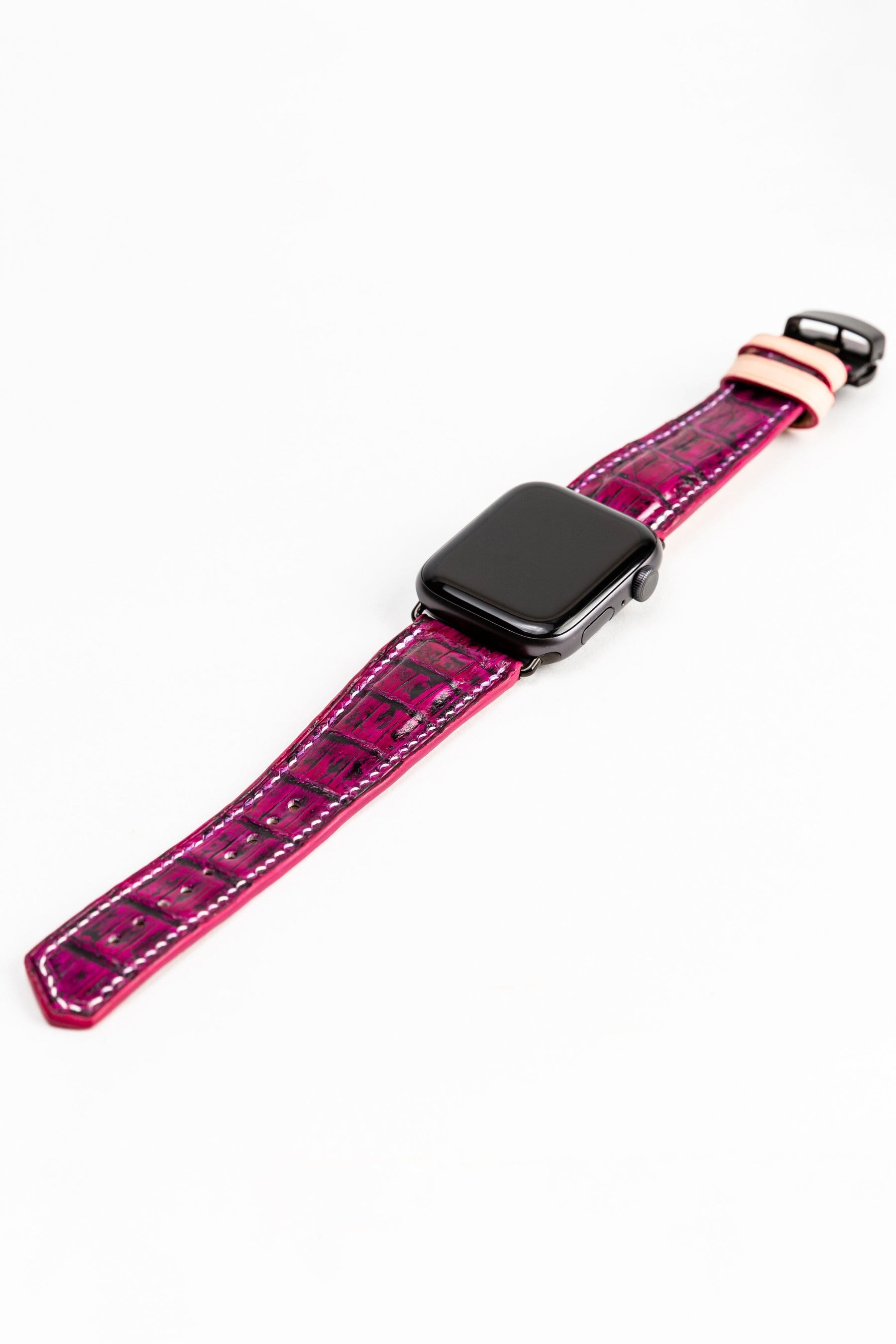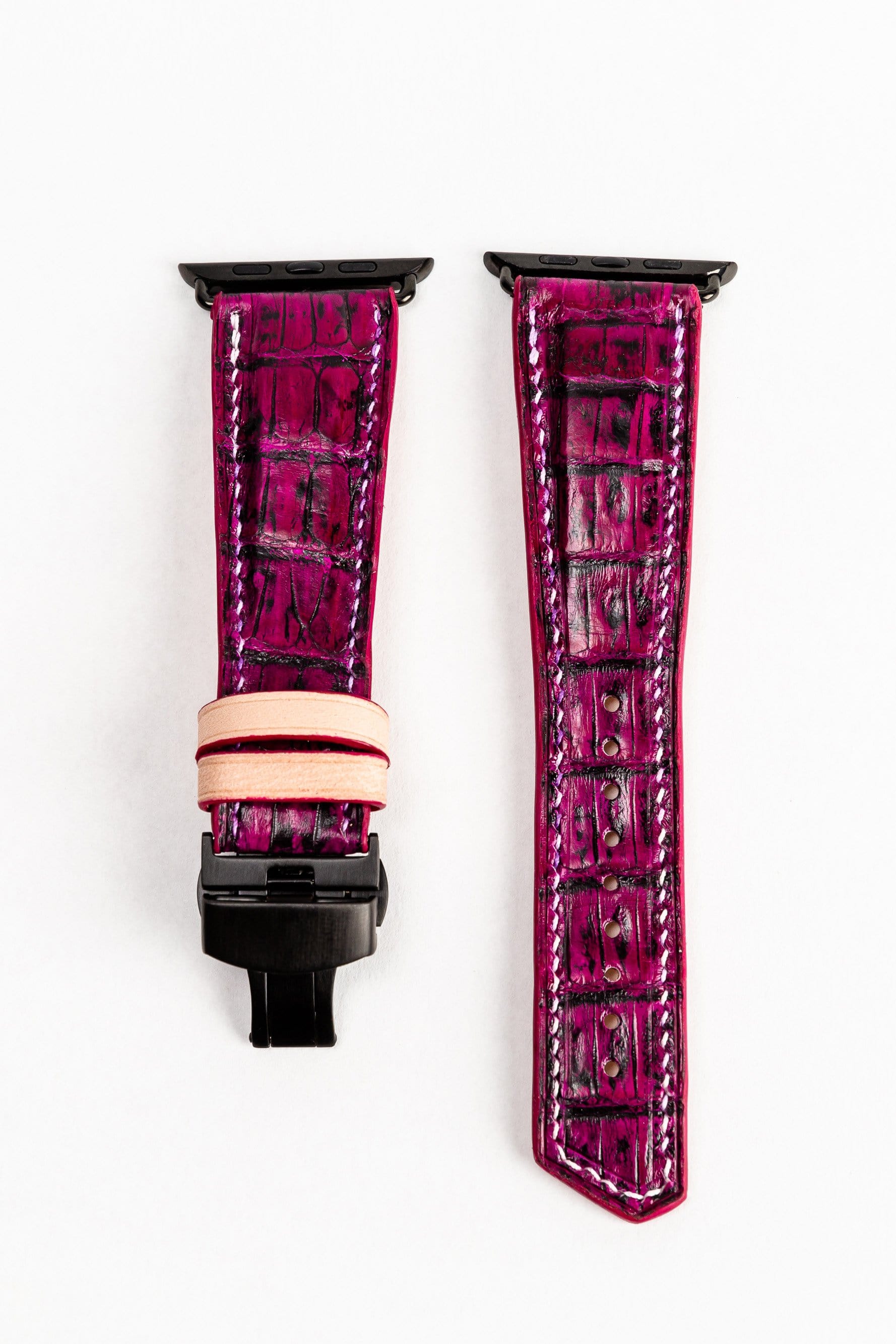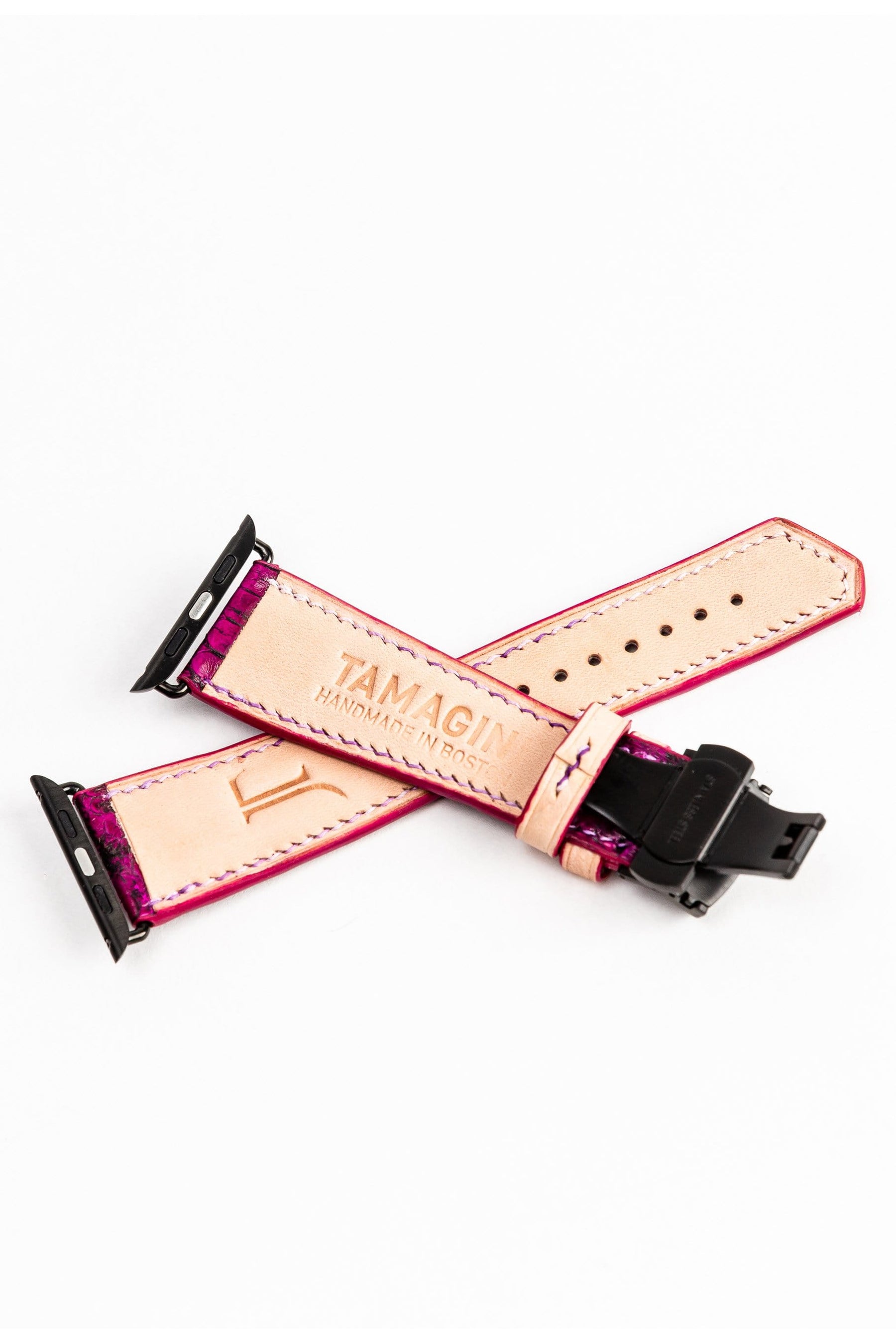 Luxury 42/44mm Apple Watch Strap Sample - Custom Purple and Black Caiman
Only 1 unit left
Often times when you meet someone it is their watch that makes a first and lasting impression.  These days however as more and more people are wearing smart devices all watches are starting to look the same.  So, why not stand apart from the crowd and get a custom watch band for your Apple Watch made from true luxury leathers.  All hand made in a truly artisan way.  The watch will ship with matching or near matching adapters to connect the strap to your Apple Watch and it will also have a luxury butterfly style clasp to keep the wear from your strap and help it look brand new for years to come.

This watch strap is a 1 of 1 creation.  It is hand dyed Caiman Croc in a Purple and Black pattern made to fit a 42/44mm Apple Watch which is the larger size watch.  The strap is lined in natural Vachetta leather with Vachetta keepers.
Shown here with Black hardware is can be changed out to Rose Gold or Silver.
As this is a final sample watch strap it has been discounted because I was changing some of the design as I was building it.  Therefore it's not the final design.
It Features:
All leather construction.
Luxury leather outside in a variety of options 
French goatskin or Vachetta leather on the inside of the strap
Linen Thread

Luxury Italian Edge Paint
Apple Watch Adapter Included
Luxury Butterfly Clasp, keeps the strap looking new for ages.
1 Fixed and 1 Floating Keeper
Notes: 
All exotic skins have been sourced from ethical tanneries and distributors and are fully CITIES compliant.
Exotic leathers that are considered endangered species in California, such as Python, can not be sold to or shipped to residents of the State of California. 
EXOTIC LEATHERS ONLY SHIP TO UNITED STATES DUE TO CITIES PERMITTING. 
See FAQ page for additional info.